Blog
November 21, 2022
Check out the Awesome: Homelinks Centre
Image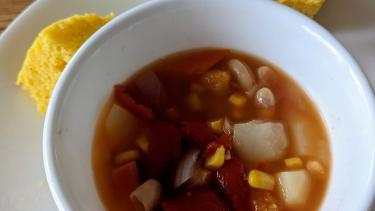 Louis Riel Day at Homelinks Creston 
In this week's Aboriginal Education learning event, K-12 students at Homelinks Creston enjoyed pahkwesikan, Metis bannock in honor of Louis Riel Day. 
One student writes:
"November 16th is the anniversary of the execution of Louis Riel, leader of the Métis in the Northwest Resistance. This resistance protested against the Government of Canada infringing the rights and way of life of Métis people. Louis Riel made an important contribution to Canada's history by advocating for the rights of people, an advocation for which he was executed. Louis Riel was a humanitarian who had a vision for a world where every culture would be welcome. On November 16th, Métis people commemorate and pay tribute to Louis Riel for the sacrifice he made for not only Métis people but all people."
Additionally, many students participated in a Métis cooking event on November 16th peeling, chopping, slicing, mixing, pouring, baking, and cooking as they learned to prepare a Métis Harvest Soup and Cornbread. After eating up only one pot of soup on Wednesday, all students who attended Homelinks on Thursdays were served lunch of soup and cornbread with the remaining pots of soup. 
Overall, students and staff ate over 70 bowls of soup which were well needed on a cold Fall day. The remaining 3 litres of soup were jarred and distributed to 3 seniors.
In relation to interconnectedness, an Indigenous mindset that everything in the universe is connected, students also shared in learning about food waste and how paying attention to our packaging and take-out serving dishes can help with a lighter footprint when we take into consideration the types that we purchase and use when necessary. The compostable soup bowls were hand shredded to be processed through a Food Cycler to make soil to give back to the earth. 
Submitted by Erin Woodford. Aboriginal Education Academic Success Teacher, Wildflower Creston & Homelinks Creston