Blog
April 14, 2023
Check out the Awesome: KRSS
Image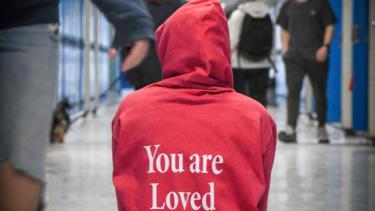 Mental health is described as one's emotional, physiological, and social well being. At Kootenay River Secondary we are beginning to take the mental health of the student and staff body incredibly seriously. To create awareness, the Aboriginal Education Program has taken steps towards mending students' mental state and overall well being; we have noticed the staff and especially the students struggling.
In preparation for ¢̕inaxaǂa (all right, let's go) canoe counseling program, students have produced hoodies to spread positive messages throughout the school, and the community. Each hoodie is unique to each and every student, where they have all chosen a quotation that is meaningful to them to put on the back of their hoodie . The front of all the hoodies have our Mental Health Matters, Kootenay River logo. This logo represents our school  as well as the host of our canoe program, the river. Each hoodie has a QR code on the inside left wrist of the sleeve. The QR code leads to the schools counseling department website where students can find resources and support including the school counselors, Valley Community Services, and supports such as Kids Help Hotline. It is a reminder that there are always supports available.
Mental health awareness has become an increasingly important topic in today's society. With the prevalence of mental health issues on the rise, it is essential that we become more aware of the challenges that individuals face in maintaining their mental health. One way to do this is by using the power of quotations to raise awareness and provide hope to those who may be struggling.
Quotations are powerful tools that can inspire, uplift, and motivate individuals who are dealing with mental health issues. They can help people to find strength, courage, and hope in the midst of difficult times. Here are some examples of quotations from student hoodies to be used to raise mental health awareness and provide support to those who are struggling:
"You don't have to struggle in Silence" - Kadis Wall, Grade 11
"Girl, do it for YOU" - Liberty Palmer, Grade 11
"If you are reading this, I hope you have a great day" - Brooklyn Archambault, Grade 12
"Control the Controllables" - Coach Chris Nicol, Winter Greenwood, James Macaulay, Ewan Gratton, Rasmus Knudsen, Jake Adams
"I'm glad you're still here" - Kaysha Johnson, Sydney Sheck, Grade 12
Quotations can be used in a variety of ways to raise mental health awareness and provide support to individuals who are struggling with mental health issues. They can be shared on social media, used in mental health campaigns, or included in self-help materials. By using the power of quotations, we can help to reduce the stigma surrounding mental health issues and provide hope and encouragement to those who need it most.
A special thank you to Denice Louie, Raine Mynott, and the team at Legend Logos. If anyone would like to purchase their own hoodie, please contact Legend Logos.
Written by Liberty Palmer, Grade 11, Kootenay River Secondary School
Photography by Jeff Banman, Aboriginal Academic Success Teacher, Kootenay River Secondary School
Image