Blog
May 24, 2023
wuqanqankimik 2023 opening ceremony
Image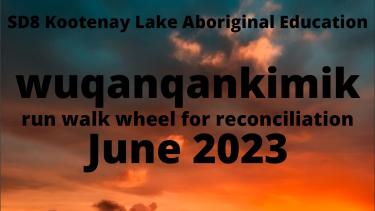 We acknowledge, respect, and honour the First Nations in whose traditional territory the Kootenay Lake School District operates and all Aboriginal Peoples residing within the boundaries of School District #8. 
Welcome to the opening ceremony for the 2023 wuqanqankimik RunWalkWheel event. 
The 2023 SD8 wuqanqankimik Reconciliation Run Walk Wheel will take place in our school district in the month of June. All schools will be participating in this event. We acknowledge and thank Nasukin Jason Louie from Lower Kootenay Band for the teachings of wuqanqankimik – a ktunaxa word that means to take long strides, to take big steps. We are all moving together toward Reconciliation. 
After participating in the Indigenous Run Walk Wheel 8 week training program, schools planned out an event to take place in and around their schools. Students and staff across SD8 will be running, walking, or wheeling 1 km, 3 km, or 5 km on a chosen day during the month of June. Some schools may have chosen to deepen their learning about Reconciliation by using this lesson plan.
Below is the opening ceremony for wuqanqankimik 2023. Nasukin Jason Louie starts us off in a good way. 
Nasukin Jason Louie (00:45)
Madelaine McCallum (11:01)
Dynamic Stretches (pre-run/walk/wheel)
Static Stretches (post-run/walk/wheel)
Music (5:08)
Thank you to Nasukin Jason Louie for opening us in a good way. Thank you to Madelaine McCallum for your teachings and kindness. Thank you to Jeff Banman for the video expertise.
May we all move forward in reconciliation.. wuqanqankimik.